In a growing digital world, now is not only the right time but it's also the necessary time for channel shift to expand your online presence. Having a digital tenant self-service portal will provide 24/7 support to residents, giving them the means to interact with you on their own terms.
Digital technology has provided the world with the means to interact and transact online. In the UK, 76% of adults used internet banking in 2020 and 87% of all adults shopped online within the last 12 months. These numbers are only continuing to grow, with highest growth for those aged 65 years and over.
A customer is never just yours; they'll use a broad range of different providers and platforms, which sets the benchmark for performance and usability expectations. If they can do their banking online, why can't they pay the rent online? If they can book an appointment for their broadband provider online, why can't they book a repairs appointment online? The tenant doesn't care about whether your housing association delivers industry-leading timeframes, they'll just question why you don't match the services provided by that of a telecoms provider.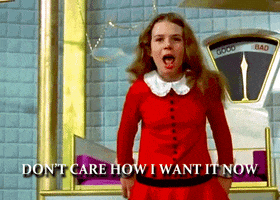 Source: Giphy
And consumer expectations will only ever increase! So when you build an online offering, to truly enable channel shift, you need to step up to the mark set by other sectors and deliver equal if not better solutions. What do your tenants really want from a self-service portal?


1. Easy access to pay rent

With the digital transformation of finance and people overall becoming much more invested in tracking their spending online, it will come as little surprise that a payment portal is top of the priority list for tenants. Not only does this make it much easier to pay rent, but it is also much more efficient for all parties involved. Tenants appreciate the transparency offered; it gives a peace of mind to have greater visibility to be sure standing orders have been transferred as they should and that they aren't falling behind with payments. Allowing tenants to transact online empowers them to fully own their finances with you, with clear visibility of upcoming payments. Your portal should be intuitive - rent reminders and notifications can support customers to keep up or automatic direct debit payments can be taken to streamline the process even further, a win-win for both the tenant and the landlord.
2. Maintenance and repairs requests

Another top priority as part of channel shift toward a self-service portal is for online maintenance requests. This makes it much easier for tenants to submit a repair request, meaning they're far more likely to be in touch sooner, making it a smaller, less costly maintenance job. It also means that as the company responsible for the property, it becomes much easier to track and respond to issues as they arise. This area of a portal can provide real value if done right - integrate appointment booking functionality to skip out the middle man and let customers choose an available date and time that works for them - reducing missed call outs. Go one step further and consider how artificial intelligence can start to streamline the process, giving customers the ability to report a repair that technology then diagnoses the issue. By collecting the right data from your portal, your repairs engineers will have more visibility of the issue, massively increasing first-time fixes - another win-win by saving both the tenant and landlord time.
Have you met Franklin - the UK's first SaaS self-service portal that can be up-and-running in no time? Find out more...
3. Automating general enquiries

A knowledge base or chatbot can assist with frequently asked questions. 74% of users prefer chatbots while looking for answers to simple questions. This doesn't just save the customer time but also takes pressure off of your contact centre staff; any question that has a standard, repeatable response can be placed within a pre-populated chatbot that guides the user.
At Prodo, we've built concierge-style chatbots that simply direct the user around the website or portal as well as bespoke bots that can take messages or handover to live chat agents when it can't find the answer they're looking for. Certain circumstances can make chatbots an ideal channel of choice for many - reporting anti-social behaviour or domestic abuse, for example. Feedback forms and NPS surveys are also commonplace outside of the sector now, providing customers with a direct means of feedback.
4. Community news

The Covid-19 pandemic has reinstated our desire to feel part of something bigger, especially at a time when many feel quite isolated. Having a community section on your portal will help to bring your residents together and give them a sense of belonging. It is an ideal place to post residential or community events and news, as well as notable updates that might affect residents. You could even utilise your portal as a forum; allowing tenants to connect and interact with one another.
5. Access to documents
Gone are the days of receiving big bundles of paperwork. Nowadays, it is much more environmentally friendly and convenient to have access to important paperwork such as lease agreements and inventories to be offered online. This can speed up the process when it comes to initial contract signing and renewals, as signatures can be provided digitally in an instant, as opposed to the drawn-out process via post. It is also much more helpful and less frustrating for your tenants to have easy access to important information so they're more self-sufficient and less reliant on phoning for help. You can even use digital solutions to remove arduous sign-up processes - take a look at the Orbit Move app; an end-to-end digital tenancy sign-up platform, integrated with Orbit's housing management system.
An online portal will not just be a massive benefit to tenants but will be a huge advantage for you also. In reducing call centre contacts and directing online instead, the cost per contact will be dramatically reduced. So it's a win-win; happy customers and a much more efficient, cost-effective service.
Download our 8-step interactive digital transformation roadmap to help form the right path for your organisation and steer yourselves towards success from the outset.

Jenny Bradshaw