When it comes to making a house a home, the small things can mean a lot. Say, the colour of a kitchen cabinet or the type of flooring. These personal choices can bring a sense of ownership and personality to make the space your own.
For residents living in social housing, it can sometimes feel like they're not in control of their own homes. As part of our ongoing work in the sector, we're always looking at ways to innovate the customer experience and drive digital transformation.
So, when York Housing Association came to us with the idea of creating a digital tool that could enable residents to make these kinds of choices, we were excited to implement our unique skill set to devise a solution.
The Room Visualiser Tool is unlike any other in the housing sector, and since its launch earlier this year, was nominated as a finalist for the Inside Housing Innovation Award 2021!
The challenge: Limitations of face-to-face events for the vulnerable
The Planned Maintenance team replace and refresh approximately 60 kitchens per year at their properties. Pre-2020, as part of the process, the Planned Maintenance team at York Housing Association would hold drop-in events for residents to understand the different products available to them with an opportunity to select colour preferences.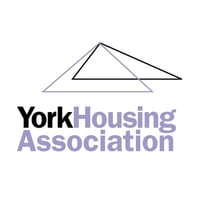 The Planned Maintenance team replace and refresh approximately 60 kitchens per year at their properties. Pre-2020, the team at York Housing Association would hold drop-in events for residents to understand the different products available to them with an opportunity to select colour preferences.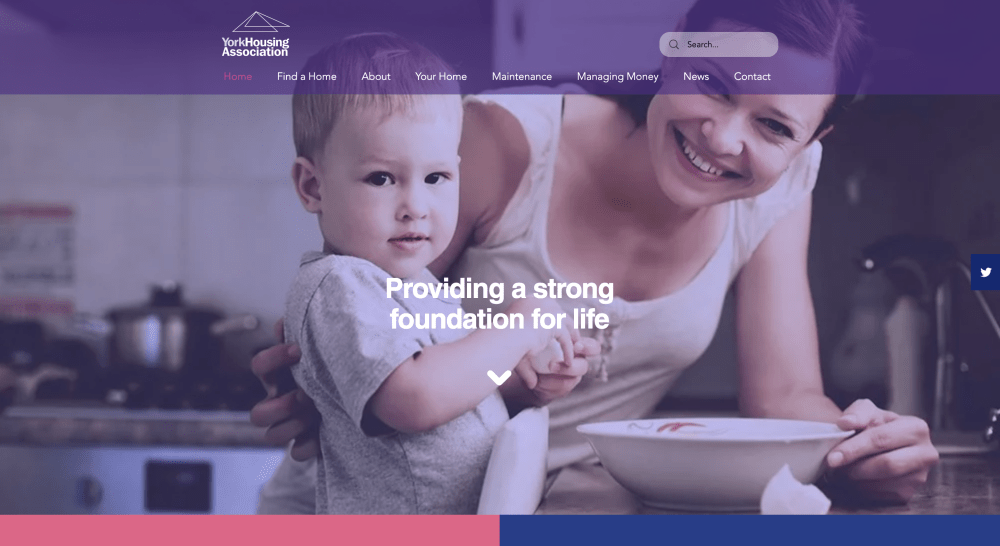 However, people couldn't always attend these sessions, particularly more vulnerable residents with disabilities. And then of course the pandemic had a huge impact, limiting face-to-face engagements. As restrictions lifted, the sheer volume of requests and appointments meant time and resources was limited to keep these sessions running.
How could York Housing Association continue to communicate with residents about their options and choices – something so vital for keeping them engaged and empowered around their home ownership?
The solution: A digital tool to enable everyone access to choices
After consultation and workshops with the Planned Maintenance team at York Housing Association, as well as their kitchen supplier Symphony, we looked at ways to digitalise this process and integrate it so that the data supplied would flow back to the team to action.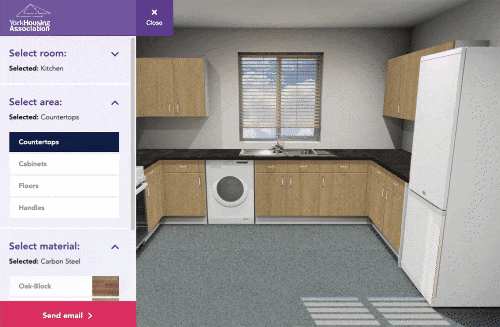 The result is a dedicated web-based application, designed with accessibility and user experience in mind. Called the Room Visualiser, it's built on the Umbraco 8 platform and currently enables users to choose between a kitchen or bathroom layout. Residents receive a specific link depending on whether they are included within the kitchen or bathroom programme, or both.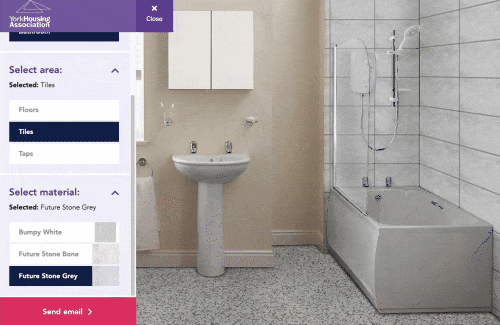 A resident can then select from a range of options to personalise the look and feel of the room. For the kitchen, they can choose between handles, worktops, cupboards and flooring, whilst the bathroom includes tiling, flooring and finishing touches like taps and shower screens.
Once they're happy with their selections, they then fill out a simple form to submit their details that are then sent on to a selected email inbox for the Planned Maintenance team to process and apply.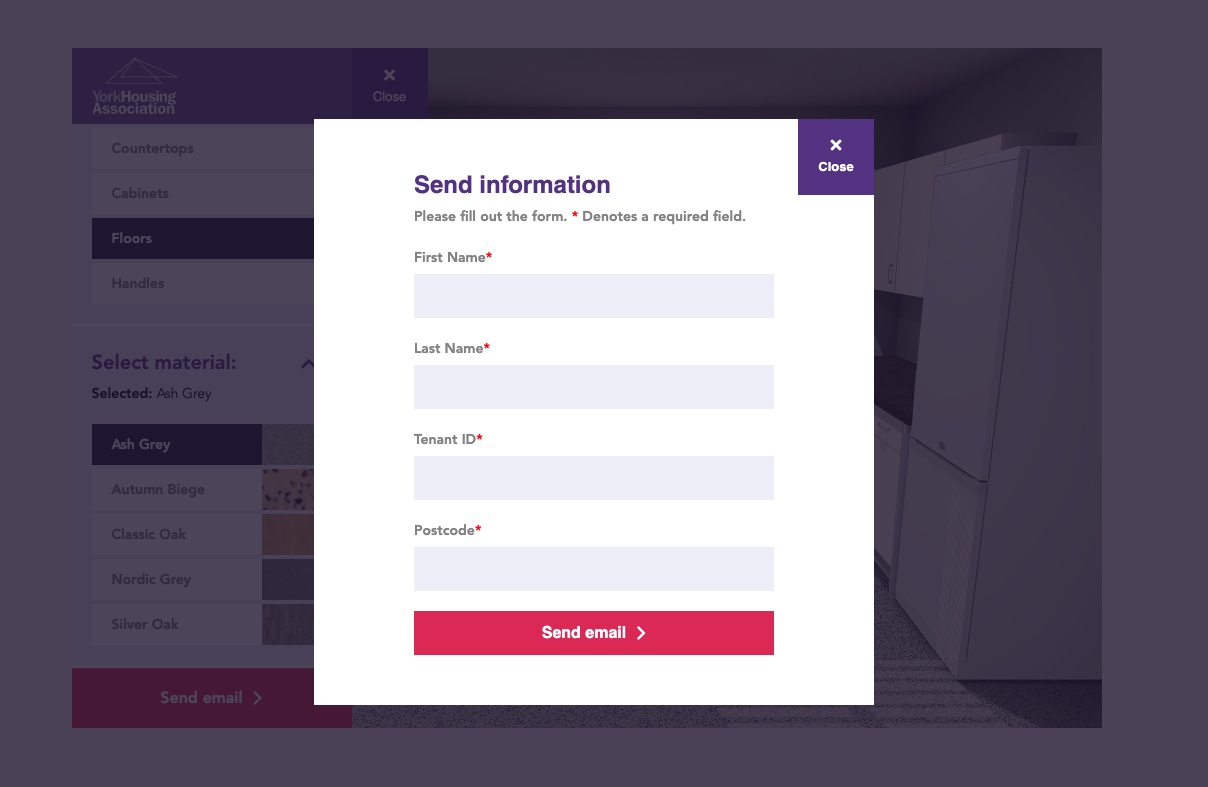 The Room Visualiser tool has been carefully designed to be simple and logical to use, mirroring similar tools that users will have come across previously. Dropdowns allow easy navigation through the steps, with a clear CTA positioned as the final option to encourage the resident to submit their selection.
It has been optimised for use on desktop as this was recommended based on existing user demographic data, though it will also work on landscape mode on a mobile or tablet, with a help notice appearing to recommend the user rotate their device should they attempt to use the tool whilst in portrait mode.
The impact: Empowering residents to make a home theirs
If this year has shown us anything, it's that digital is an invaluable means of connecting people and providing new ways to self-serve and engage.
The Room Visualiser is just one example of this – a simple, straightforward tool that has the potential to automate processes, reduce resource input and, most importantly, empower customers to make style choices from the comfort of their own home.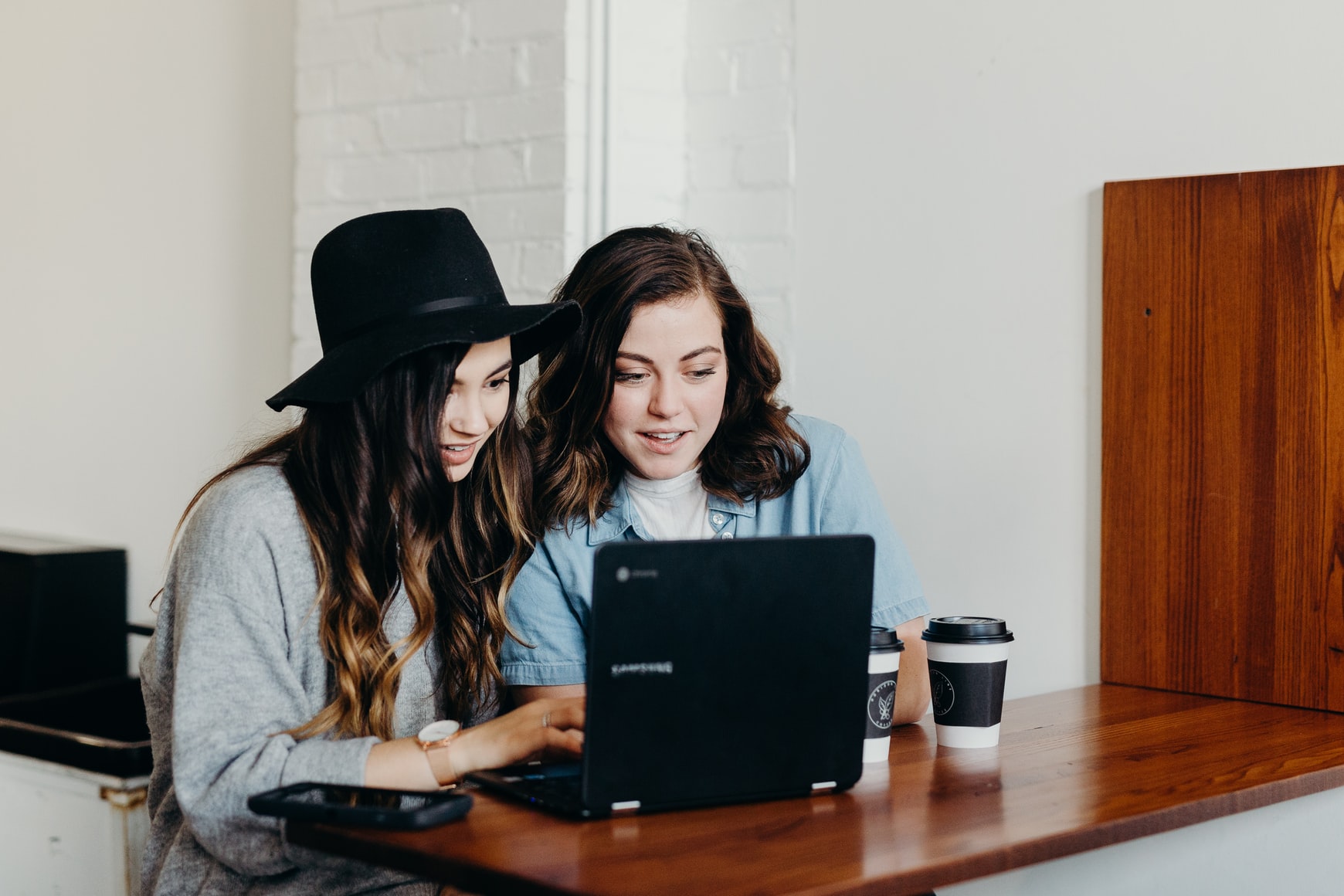 Image source: Unsplash
This kind of feature is commonplace amongst kitchen suppliers, so to bring it into the housing space makes sense – the private sector will always set the benchmark for customer expectations of service levels and features. Offering this level of customisation can't be underestimated, empowering residents to make a home truly theirs, something that isn't always possible when renting under social landlords.
There are many other benefits of allowing residents to visualise their new kitchen or bathroom; perhaps most significant is that you're giving them the freedom to self-serve at a time that suits them, whether that's over a coffee before the school run or whilst watching TV on the sofa. Plus, it's an invaluable tool for those that physically would struggle to attend face-to-face, whether that's for childcare issues or mental or physical health reasons. People appreciate flexibility.
The tool also streamlines processes for the Planned Maintenance team, by providing a means of data collection and choice selection instantly. It also means York Housing Association can view and analyse customer behaviour around their choices, centralising the data to one single source.
Residents still have a face-to-face survey at their home, where they can see samples of the products that they have chosen on-screen too. This is an important part of the process so that they can still have the interaction with a surveyor and ask any specific questions they may have.
Helen Pratt, Project Manager at Prodo, said: "We really enjoyed working with York Housing Association to create an engaging and forward-thinking tool to help transform their customer experience. It demonstrates how digital can solve such a wide range of problems with ingenuity and innovation! We look forward to hopefully working with them in the future to further develop and expand the tool's capabilities and we also look forward to potentially delivering a similar Visualiser tool to our other housing clients."
Testament to the tool, it's been nominated as one of seven finalists for the Inside Housing Innovation Award 2021. View the Room Visualiser tool here.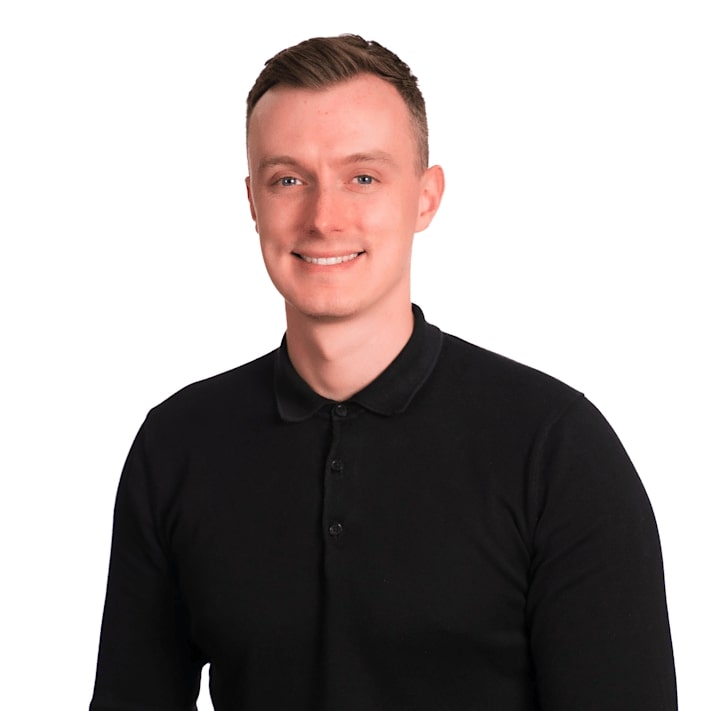 Jacob Howell