Our recent survey delivered a fairly divided opinion – 54% would rather work from an office compared to 46% choosing to work remote. Those that chose the office said they enjoyed interactions with colleagues, felt a better separation between work/home life and had better communication. The top three factors for working remote were a better work/life balance, no commute and less distractions.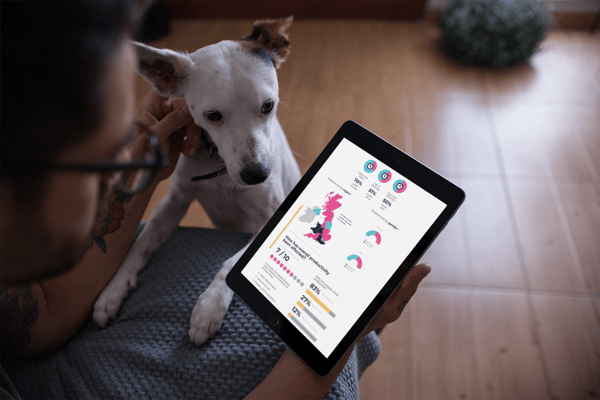 Image source: Placeit
When digging a little deeper into the demographics, we looked at the responses from different age groups. We found that of those surveyed, 70% of millennials, born between 1980 to the early 1990s, chose remote working. Generation X, born between 1960 and 1980, just tipped towards preferring office work. Boomers were pretty much evenly split.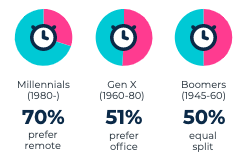 Image source: Prodo
For reference...
Millennials are adults aged under 30 as of 2020
Generation X are adults aged between 30 and 60 as of 2020
Boomers are adults aged between 60 and 85

Source
Does this imply there's a generational divide over what's most effective? There's long been the sense that millennials are driving change across the workplace, with emphasis on remote work being one of the key shifts. Our survey falls in line with this thinking, but also shows Generation X and Boomers are fairly onboard with the concept of remote working, just not as much as millennials. This is likely due to older generations having a more traditional concept of work conventions, whilst millennials are much more familiar with remote work.
But the fact that 91% of people would like to be given the opportunity to work more flexibly once the situation allows it shows all generations are open-minded to remote work. With such a high trend favouring more flexibility, organisations need to think about what the future of work looks like post COVID-19. Here are a few key takeaways to consider…
Perks of the job
Younger generations have become accustomed to remote working and now expect it to some extent. FlexJobs found 82% of millennials said they would be more loyal to their employers if they had flexible work options and 60% more productive. For many, flexible work options are a key element to a better work/life balance. Remote working can attract people from a recruitment perspective and help reduce staff turnover.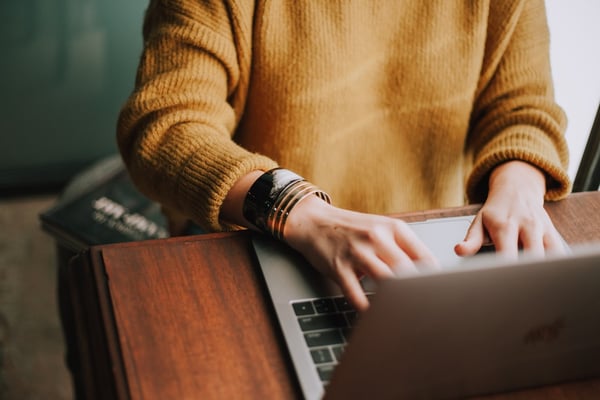 Image source: Unsplash
Supporting those against remote work
Whilst remote work is unavoidable for the time being, organisations need to do everything they can to ease the transition and support all employees through the process. Slowly, remote work will become normalised, with older generations becoming more accustomed to it once it's part of the culture. Making sure everyone has the right equipment is essential, as is keeping up with internal communications – much more regularly than you would in an office environment. Regular surveys can keep a pulse on how people are feeling about work.
Balance is key
Not everyone will want to work remotely all the time. For some it can be isolating, for others it can be distracting. For many, time saved on commuting is a huge bonus and they're more productive, but they miss colleague interactions. Ideally, you'll be able to start offering the best of both worlds – a balance of both so that people can choose what works for them. This could be introducing a hot-desk set-up or defining work-from-home days across the business. In the meantime, regular video calls and daily standups can help reinforce the communication across teams to fill the void of face-to-face meetings.
Instant digital transformation
Remote working will have a huge impact on each element of any organisation's central work triangle: the employees, the employer and their customers. How will moving to remote work impact your customers? If you've got the right infrastructure, it shouldn't at all. COVID-19 has in many ways forced 'instant' digital transformation, both internally and externally.
For remote work, proper software, tools and planning will pave the way for better data and better communication, ensuring employees have everything they need to handle customers both remotely and digitally. Customers should be able to contact you whenever they need to – things like chatbots and responsive self-serve portals allow this, whilst also freeing up valuable resource from call centre staff.
Want to see more of the results from our survey? Get access to the full report here.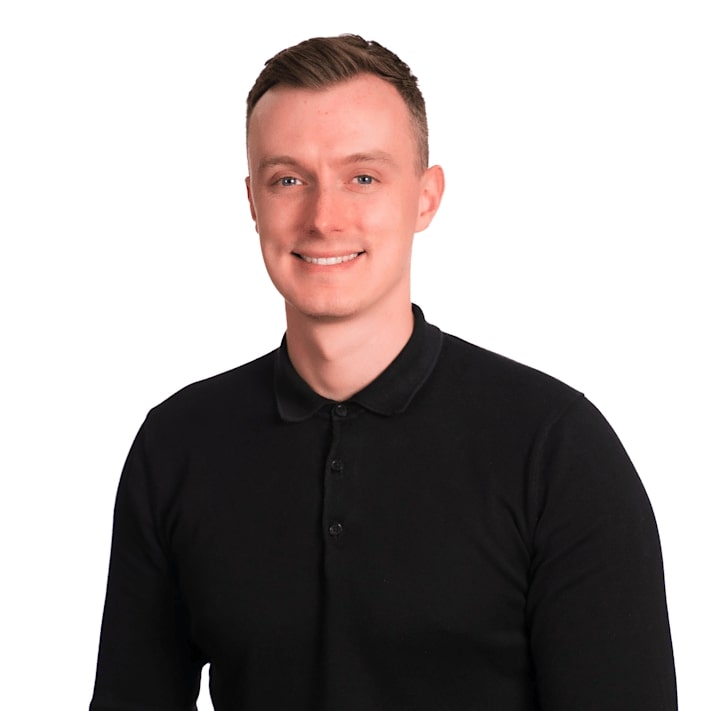 Jacob Howell