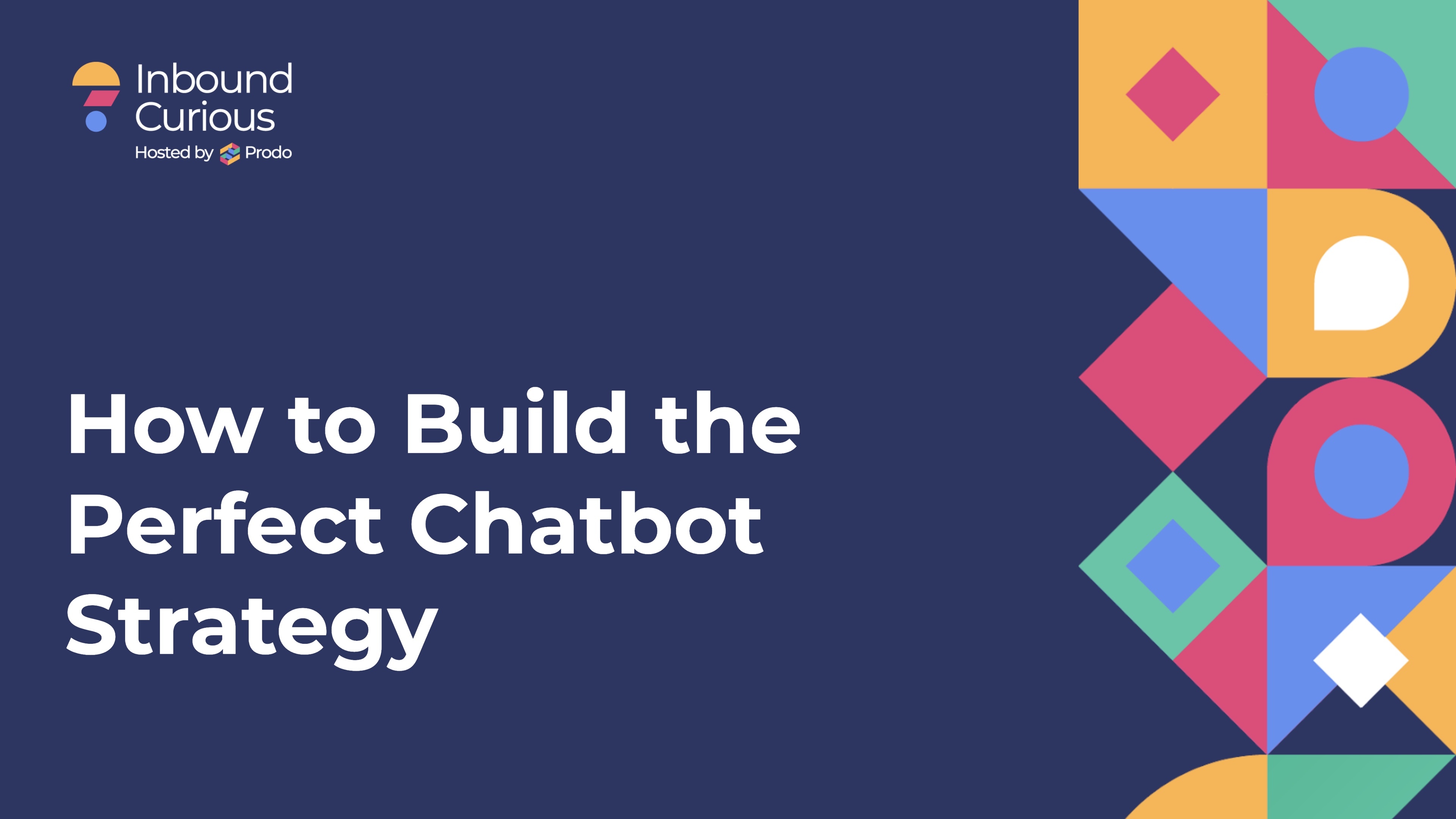 You've probably heard it already – chatbots are the future. We're not spouting anything revolutionary here, as the rise of conversational marketing strategy, in the form of messaging apps, has been prophesied for a few years now and you'll almost certainly have spoken to one yourself (even though you might not have realised if it was a really good one...).
Follow our quick links to get your answer quicker...
But a chatbot marketing strategy – hand-in-hand with a conversational marketing strategy – really can be your business' much-needed extra team player that's available to help your customers whenever they need it.
Clear, consistent messaging is essential to keeping customers connected and engaged with your brand, especially through very inconsistent and challenging periods like the current COVID-19 pandemic.
Technology has changed the way we communicate and what we believe to be an acceptable response time has massively reduced. We want and expect conversations to happen instantly, when and where we want. 82% of consumers expect an immediate response and chatbots allow strategic interaction 24 hours a day, 7 days a week.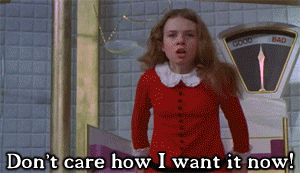 Source: GIPHY
So if you haven't got one yet, now is the time to invest in a chatbot. Or you might have one, but it's not really fulfilling its true chatbot potential – in which case, now is the time to re-think your conversational marketing strategy.
But why now?
The economic impacts of COVID-19 have been felt by businesses across the world for over a full quarter now. Whilst we can't exactly predict what will happen in the future, we can start to look at the data coming in from the last quarter and consider ways to recover and adapt.
Since the beginning of the outbreak, HubSpot has collated and published weekly data sets across key performance metrics as a benchmark to help business owners navigate these unchartered waters. As we begin Q3, we can now look back at the data from Q2 to understand more about how our customer's behaviours have changed and how we might adapt our tactics to match.
One of their key findings is that buyer-initiated chat is up 31% from the pre-COVID benchmarks for Q2 in 2020. In the construction and consumer sectors, this is up by over 45%.
This isn't a total surprise – more businesses have shifted online than ever before, many for the first time, and for most organisations, face-to-face and telephone communications have been difficult to maintain.
But you can also pair this with the fact that buyer interest has risen significantly, with global site traffic increasing by 16% during Q2 compared to Q1.
Investing in both chatbots, live chat and conversational marketing strategies ensures that your organisation is ready and prepared to make the most of this increase in traffic. But not only that – chatbots can help save up to 30% of customer support costs and allow employees to spend more time on more complex issues – helping you grow your business in the long-term.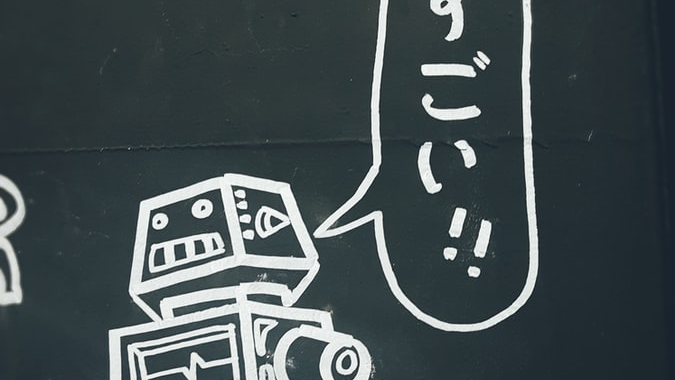 Source: Unsplash
What can a chatbot really do?
A chatbot is simply a computer program that can automate routine tasks through a conversational interface. It's another arm to digital transformation – providing consumers with an additional channel to utilise.
Even in their most basic form, a rule-based chatbot can handle manual work tasks like lead qualification, meeting bookings and signposting.
As technology has evolved, so have bots. The most advanced bots are powered by artificial intelligence (AI), using pattern recognition, data analysis and predictive analytics to handle more complicated tasks and more advanced personalisation.
As AI becomes a more mainstream form of communication, AI-based chatbots are anticipated to record a growth rate of 53% over 2018-2024.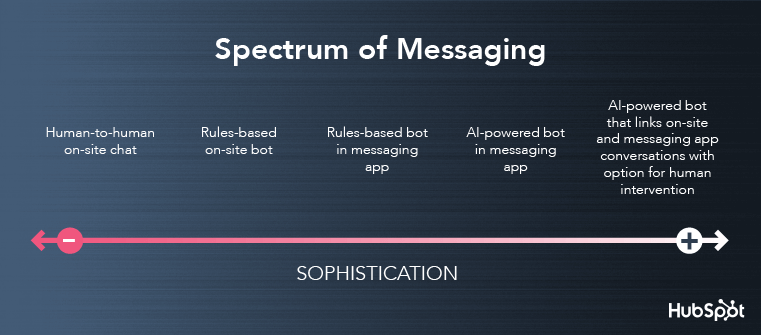 Source: HubSpot
Advantages to a chatbot
They can be proactive or reactive. Got a key message you need to deliver? Use a chatbot to pop-up on relevant pages of your website. Want to offer helpful tips and advice? Use pre-set messages to guide the user around your website.
Their responses are always consistent. You can build your bot to work however you want it to and make sure that it gives the right response to any particular query, filtering out human error.
They can be on all the time. Perfect for night-owls!
They'll respond immediately. This goes back to our expectations as a society now that we live in an age where we expect things to happen instantly.
They collect data. You can learn a whole lot about your customers from a bot if it asks the right questions.
They can live where your customers already spend their time. SMS, Facebook, WhatsApp, etc.
Where do you start?
Free conversational marketing tools are included in the HubSpot CRM – like live chat and a chatbot builder. There's also a Facebook Messenger integration to build your multi-channel conversation strategy.
If you're interested in learning more about how conversational marketing and chatbots work through HubSpot, watch our virtual HubSpot User Group on chatbots and conversational marketing.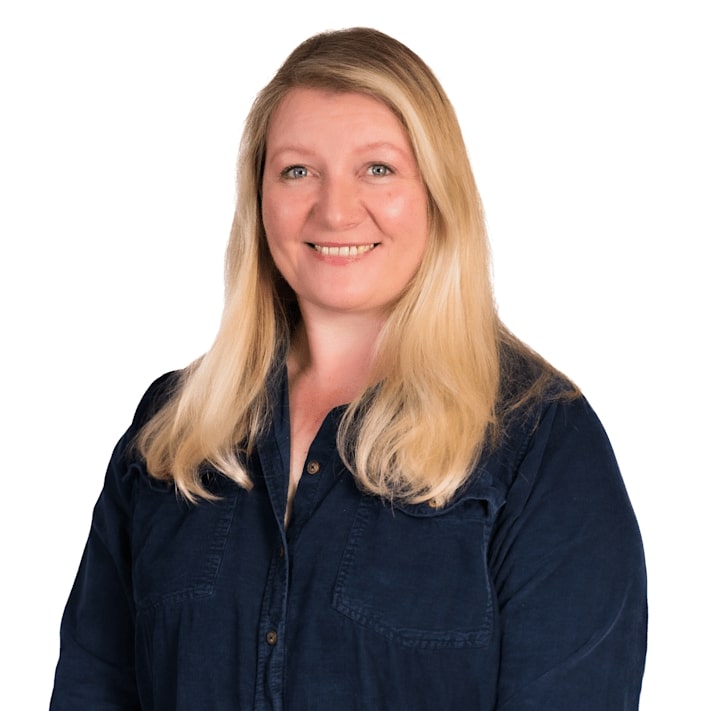 Jenny Bradshaw