If you're already using the HubSpot platform and Marketing Hub, you'll likely be using the workflows tool. Something we've noticed, though, is that not many people know about workflow goals...
Before we get going, if the thought of going near a workflow terrifies you, fear not! Watch this video for a one-stop overview of how to get started with workflows in HubSpot.
Workflows are a hugely powerful tool within HubSpot, enabling you to automate processes and gain huge efficiencies both from an administrative perspective and across your outbound marketing strategy. Literally, every single department in your business should be using workflows, we promise it will make everyone's lives easier!
Now, if you're familiar with workflows, you'll likely know how to set up enrollment, triggers and processes within it. But are you able to assess how successful your workflow is?
Say, your contact has gone through a workflow and completed the desired action, what happens next?
This is where workflow goals come into play.
From our experience working with clients in HubSpot, workflow goals are often forgotten or missed. But they're super easy to set up, improve reporting capabilities and improve overall engagement.
So next time you set up a workflow, make sure you're setting up a goal! Added bonus, you'll feel a warm sense of accomplishment when a contact hits it. Celebration dances at your discretion.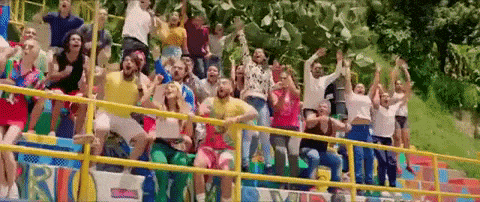 Source: GIPHY
How to set up a workflow goal
Please note - this feature is for Marketing Hub Professional and Enterprise only
For contact-based workflows:
In your HubSpot account, head to Automation > Workflows.
Click the name of your contact-based workflow.
In the upper left, click 'Set goal'.
In the dialog box, select and set the goal criteria. Then, hit 'Done'.
You can add multiple criteria by using 'and'/'or'. Click 'Save' when you're done!
Using workflow goals for enrolment
You can also use workflow goals to set who falls into certain workflows as well as who should be removed from them when they hit your criteria.
If your workflow has a goal set and uses marketing emails, you can trigger another workflow to automatically enrol a contact when they meet the goal of the previous workflow. You can do this using the Workflow status filter 'Contact has met the goal'.
If you workflow didn't send marketing emails, you just need to use the Workflow status filter 'Contact has been enrolled in', then use the additional 'and' criteria to set further enrollment criteria.
Examples of workflow goals
So your workflow goal will unenrol a contact when they meet the goal criteria, making sure they don't continue to move through the workflow.
Some common examples of workflow goals include…
Email engagement (Contact has not opened any emails in the last month)
Last activity date (Contact has been active within last day)
Lifecycle stage updates (Contact has moved from MQL to SQL)
Website engagement (Contact has filled out a specific form, clicked a CTA etc.)
Overall engagement (Contact has hit a certain amount of interactions with your marketing contact i.e page views, email clicks etc.)
Reporting on workflow goals
Workflow goals are great for making sure the right people are kept in specific workflows to their current circumstances so that they get relevant content and communications.
But they can also massively help you out when it comes to reporting. And we all want more help with that, right?!
Each workflow you build has a performance report view where you can see a top-level overview of things like how many contacts have been enrolled, active contacts, enrollment trends, email trends and more.
You can also see how many people have successfully met the goal. So this means you can start reporting on the conversion rates of workflows, for example, 10% of the 1,000 people that entered the workflow met the goal. This is really powerful in demonstrating exactly how your automation campaigns have performed, with at-a-glance data sets and metrics to report on.


Useful HubSpot articles:
Knowledge Base: Use goals in contact-based workflows


Want to make sure you're making the most out of your HubSpot investment? We've got 12 tips, strategies and hacks to supercharge your portal – get them sent straight to your inbox!
Header image source: Envato Elements

Samuel Banks