As part of our Social Housing Future of Work survey, many work-related challenges were raised that had developed as a result of COVID-19. Regardless of sector, these are challenges we're all facing at the moment. We've had a look at which issues were raised the most, with a few solutions to help organisations and individuals overcome them…
Image source: Unsplash
Missing interaction with colleagues
We found 58% of people said missing interactions with colleagues was their biggest work-related challenge since the impacts of COVID-19. For many, the people you work with are a big reason why you love the job you're in. We've all had to get used to seeing people through a screen and it's a big adjustment, especially if you've got new starters who might not be able to join in as easily.
Though there's nothing like a quick tea break with your colleagues, you can try and bring in some new break points that might help fill the void. Schedule in a group video call that people can drop into if they're free and make it clear you're not there to talk about work, just to catch up and have a chat.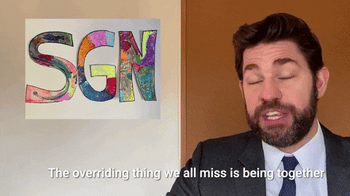 Image source: Giphy
Juggling work-life balance
Whilst many are enjoying being able to spend more time at home than they usually would, it can be difficult to strike a balance. There's distractions aplenty, but it can also be difficult to know when to stop work for the day. It's important to stress – this isn't a normal 'remote work' set-up. Many aren't only having to get used to working remotely, they're also potentially working alongside a full house of people doing different things.
If you have the space, it's important to create zones – try to work somewhere separate to where you do most of your 'living', like the living room or bedroom, and keep those as work-free zones. If you don't have much space, try to get into a routine. When you're working, maybe listen to music via headphones or sit at a certain place at the table. Also, if your work permits, set yourself 'hard stops' at the end of a workday, where, unless there's something extremely time critical, you sign off completely and start personal time.
Here at Prodo, we've also made it clear that any interruptions, be it kids, pets, partners – are completely welcome! Organisations need to be as supportive as possible during this crazy time.
Increase in workload
Our survey wasn't alone in finding people are struggling with increased workload since COVID-19. LinkedIn found 86% of people feel they need to prove to bosses they are working hard and deserve to keep their jobs, with many working extra hours overtime. There's other factors to consider, like furloughed staff, and for the housing sector this unprecedented situation will be having huge implications for tenants, meaning busier workloads. If you're feeling overwhelmed, don't be afraid to reach out to your manager to discuss solutions. Now more than ever, we need to have realistic expectations given the circumstances.
Digital channel shift is another solution to consider to help ease workloads. Not only are digital channels more cost-effective than phone calls, but they can also massively ease pressure on call centres. A chatbot, for example, can help solve common queries and signpost tenants to what they're looking for without the need for human contact. Take a look at the results Housing Solutions have seen with their chatbot!
Motivation & Mental health
It's important organisations recognise how working from home and COVID-19 may affect our mental health and motivation. We'll likely be working in very different circumstances for the foreseeable future, so teams need to support one another however they can. Regular check-in calls – ideally with the video on – can give people the opportunity to catch up with how they're feeling and raise any issues.
Employees need to be actively encouraged to keep a good work/life balance – things like daily exercise, a defined start and finish time and pre-set breaks can help. If you haven't already, now is a great time to put Mental Health first aiders in place – designated people that can provide advice and support. The Mental Health Foundation has some great tips and advice for supporting your mental health.
Image source: Giphy


Internal communication
Now more than ever, employees need to feel connected and supported. We can't stress enough how much over-communicating can help when we're not face-to-face. When you think about it, back in an office environment, it was easier to make sure everyone was on the same page. Now, we need to give as much clarity as possible. Regular team newsletters and video updates make people feel involved in the bigger picture and are a great opportunity to boost morale by sharing successes. For individual teams, daily standups in the morning keep people on track with their progress, goals and deadlines.
Want to see more of the results from our survey? Get access to the full report here.

Adam Brown