You've got a new idea. A new piece of software, a tool, a campaign, you need a new website. It's gonna be a game-changer. This is what you need to do next in your strategy to achieve your business goals, to grow, to thrive.
The thing is, ideas generally cost money to implement. And if you're not the one holding the purse strings, you've got to do a whole lot of convincing to get budget sign off. Especially if it's a big project.
But you know it's going to boost your strategy. So you've got to get stakeholder buy-in – otherwise, your project's going nowhere. You need approval for the budget and resource that's going to make your idea a reality.
So how do you get that all important yes from the people at the top?
First up... who do you actually need to say yes?
Your stakeholders are the people that can influence or be influenced by your project. But not all stakeholders are created equal.
Some will have more influence but little interest, whilst others will have more interest but actually less influence.
So once you've figured out who the people are within your business that you need to say yes, you then need to map then out on a scale depending on their interest in the project and power to influence it. This will help you manage communication and contact with them depending on their position.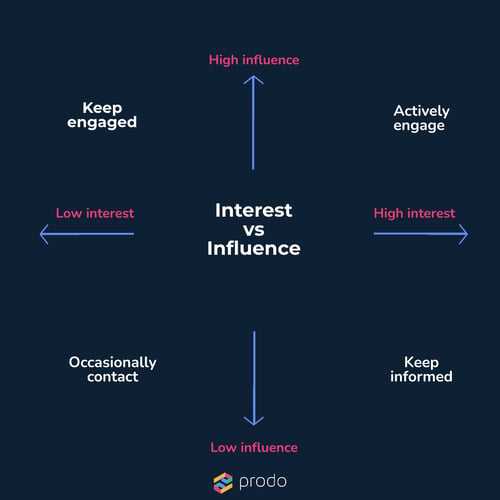 Low interest, low influence: stakeholders who might be fairly unimportant to your project – still keep them in the loop, in case they decide to 'mobilise.'
High interest, low influence: be wary of ignoring this group: even though they probably can't derail the project, they could attempt low-level blocking and other types of resistance.
Low interest, high influence: only become problematic if persuaded to act for high interest low, influence groups. Retain their support through regular meetings and communications.
High interest, high influence: powerful advocates or opponents – so any high/high stakeholder groups need to be kept fully informed and given a sense of ownership.
How is your project going to change their job?
Ultimately, everyone has their own job to manage and objectives, KPIs and targets to reach. If you can align your project with their needs, you'll have an automatic headstart.
Think of them as a customer of your project – what are their pain points? C-Suite stakeholders tend to have the same issues – business growth, strategy, efficiency, ROI and security. How does your project solve or ease these pain points? For each of your stakeholders, map out why exactly this project is going to help them. What tangible benefits will they see from your project?
Start out by listing out all key benefits, but then you need to work backwards and prioritise them. No one wants to sit in a pitch meeting where you go over 27 different benefits.
Use the matrix again to highlight the stakeholders with the most influence and interest, with the biggest benefits your project will bring.
ROI, ROI, ROI
Money makes the world go round. Money makes your business successful. Generally, all of your stakeholders, though they might have slightly different objectives, will have an objective linked to growing the business.
So one thing they'll have in common is ROI – how can you measure your project performance and outline the impact on the business?
Communicating the value of your project will be the number one thing to nail that 'yes'. So if your new website project has the objective of generating more leads – you need to be really clear in defining how.
For example, ask these questions for each key objective:
Objective: Generating more MQLs
How is it measured?
Number of marketing qualified leads per year generated through digital sources
What is it now?
600
What would you like it to be?
1000
What's the value of the difference?
MQL to New customers conversion rate = X new customers
Avg. customer value = £xx
What's the value over time?
X new customers x 3 years = £xx
Pitch it like you mean it
So now you know who you need to sell your idea to and what they want to hear – you need to pitch it. This is just like a sales process, where you should think ahead about what they might object to. No budget? No resource? Unclear ROI?
Do your homework and think about contingency plans for dealing with these potential objections. You need to be upfront and realistic, though, rather than selling them a dream.
Gather up all the data you need to support your claims, using your internal CRM, analytics and reports – you could even run surveys or focus groups to provide further evidence.
If your competitors are doing something similar, hone in on that. No senior team wants to know they're falling behind!
Bottom line?
You've put a lot of hard work into this idea and you'll know a lot about the project. But your boss doesn't. So make everything as clear, simple and straightforward as possible.
Time is precious, especially for the C-Suite. Focus everything around who you're trying to win over, spelling out the goals and measurables at every stage.
Whether pitching your idea comes about as a formal presentation, a business case or just a one-to-one chat, make sure you've documented everything as a reference for people to take away and digest. A project profile can be great for outlining the key points – check out our website template for some ideas on what to include!

Huw Roberts