Our latest HubSpot website project has gone live! This time it's for our client, Memrise. Built on HubSpot, the multi-lingual functionality showcases just how much you can do with the dynamic CMS.
Discover Memrise...
Memrise is a language learning platform founded in 2010 with over 50 million users worldwide. Through using proven memory techniques and creating immersive experiences with video clips of native speakers, they're passionate about making learning fun - and their website needed to bring this to life.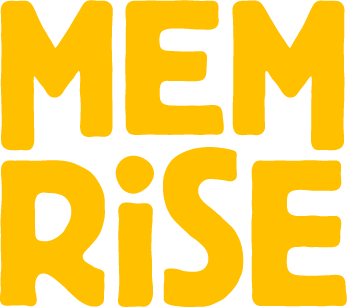 With ambitious goals to grow in the coming years, Memrise looked towards expanding their digital ecosystem with a marketing-led website that drives engagement with a user-centric experience. Key deliverables included enhanced automation, increased sign-ups and improved conversion points.
With a focus on engagement, a user-centric experience and conversion, Memrise identified HubSpot as a CMS that would be ideally placed to support them in achieving their goals.
Following a recommendation by the HubSpot team, Memrise engaged Prodo to design and develop their new website. Our vast experience of delivering engaging, high-conversion websites and our relationship with HubSpot meant we were ideally placed to deliver the results they needed to see.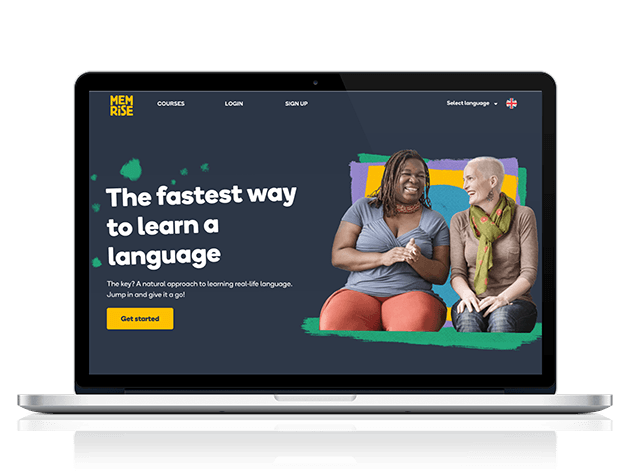 Image source: Placeit
We carried out our full project development phases across initial consultation to outline exactly what was required for their new website, informed by planning, insight and evidence at every touchpoint.
The new website has been carefully designed to showcase Memrise' distinctive branding, utilising drag-and-drop modules without feeling block-built. Colour, imagery and video assets have been carefully woven into the design to accentuate the client's bold, passionate tone of voice and truly bring the website to life.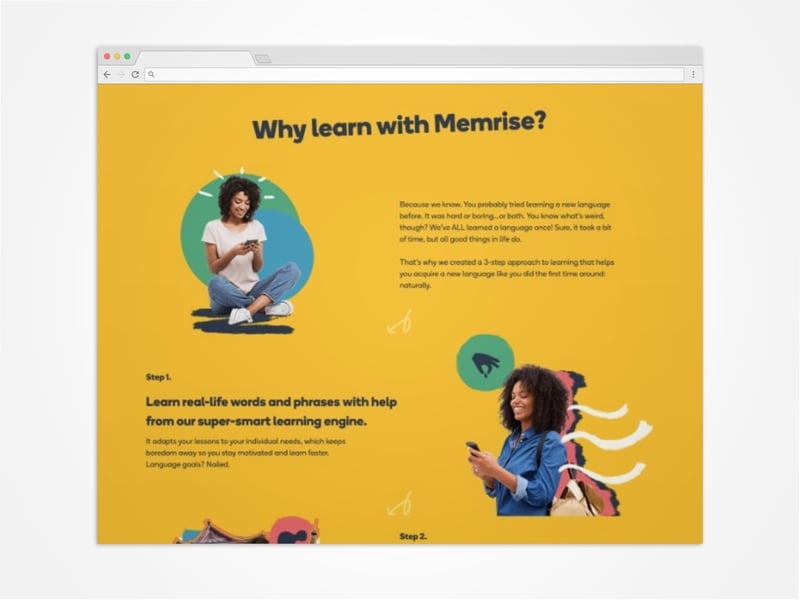 Image source: Placeit
Being a multi-language learning platform, the multilingual elements of the website were a key element.
Over 24 languages are supported on the website, flipping between them depending on the native language and the language being learnt.
Prodo used both HubSpot functionality and out-of-the-box development to deliver this experience, catering to a wide range of users all around the globe offering maximum accessibility and high-level functionality.
Prodo's Account Director, Laurie Owens, said:
"The Memrise website has been a hugely rewarding project to work on, showing just how much the HubSpot CMS is capable of. We're really proud of how the website has turned out – little interactive hovers and an intuitive UX make it feel modern, fresh and full of life - perfectly matching Memrise's core values."
A Memrise spokesperson said:
"We're delighted with our new website. Prodo was a pleasure to work with and they communicated at every stage of the process. They carefully managed complex functionality requirements and seamlessly integrated the HubSpot CMS with other areas of our website built in React. The team was impressed with their technical skill and their design flair, despite a difficult project schedule and complex stakeholder set."



Adam Brown