Our reaction when we heard the news that Oprah Winfrey is going to be taking to the stage at INBOUND 2021...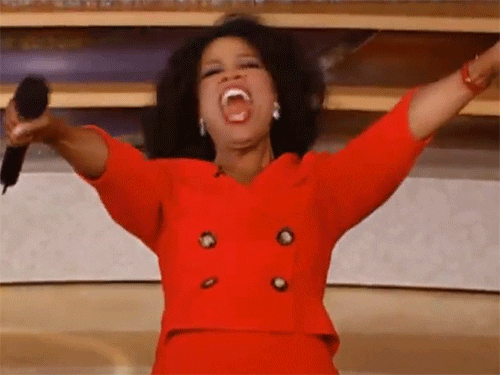 GIPHY

One of their biggest spotlight speakers ever announced, the extraordinary Oprah Winfrey is speaking at the event to delight audiences with her incredible business insights throughout her 30-year career.

Since "The Oprah Winfrey Show", Oprah has continued to entertain and inspire her audiences and is now considered a beloved global figure today.

As one of the top self-made powerful people in the world, Oprah now has the title of Chairman and CEO of OWN (Oprah Winfrey Network), she is also the founder of The Oprah Magazine (O), oversees Harpo Films, and is a serving board member for WW International.

An inspiration for millions, with a connection that serves to motivate people to act all around the world:

"Be thankful for what you have; you'll end up having more. If you concentrate on what you don't have, you will never, ever have enough."
Oprah Winfrey

This is definitely a talk not to be missed by those wanting to discover the wisdom and knowledge gained by this global media leader, producer, actress and philanthropist.
When can you catch Oprah Winfrey at INBOUND?
Oprah is hosting the final Spotlight session of INBOUND on Thursday October 14th, 10:30 pm - 11:10 pm BST. Not got your tickets yet? You can still register now to get a free pass to watch the Spotlight sessions live!
What's Oprah talking about?
'Lessons Learned on the Road to Success'
"Show me someone with a perfect record and I'll show you someone who has never succeeded." When we look at the greatest among us like Oprah, it's easy to see success and nothing else - but that success has not come easily. There are always failures along the way that create lessons that make us better. They're hard and messy to talk about, but we all become better if we do.
Who else is going to be at INBOUND 2021?
As well as Oprah Winfrey, attendees can also look forward to hearing from speakers such as Spike Lee, Hasan Minhaj and HubSpot leaders, Yamini Rangan, Brian Halligan and Dharmesh Shah.

This year's INBOUND 2021 is set to be a fantastic event for gaining transformative business insights and for taking part in dynamic conversations to help take your business to the next level.

Sessions have been collated for convenience, with remote working in mind, enabling attendees to garner the knowledge gained easily to be able to use it within their own future business projects. There will be a range of session styles so that you can choose what works for you.

Live Sessions
The Live Sessions will mean that you are able to interact with other attendees and share ideas and thoughts on all of the areas being discussed.

On-Demand
If you are a Powerpass holder, you can gain access to the On-Demand sessions which will allow you to watch talks and events that have already taken place, at a time that suits you.

Meetups
For those looking to connect with other like-minded business individuals and to expand their business networks, you will no doubt find the Meetups sessions beneficial where you can discuss ideas, swap thoughts on various topics and expand your own knowledge on useful business concepts.

With all of this and more on offer at INBOUND 2021, it is set to be an incredibly useful resource for business professionals, so don't miss out! Register now for INBOUND 2021 to secure your place...



Huw Roberts