Happy New Year! After a challenging (to put it lightly!) 2020, hopefully, you've hit the ground running into 2021 and are feeling ready to kickstart your sales and marketing strategy with the help of our HubSpot Product Updates.
As a HubSpot Diamond Solutions Partner, we've got a super speedy round-up of the latest HubSpot product updates for you to get your hands on, with our pick of the bunch to help you make the most out of the platform.
As always HubSpot are bringing the goods, so let's dive straight in!
Marketing Hub Updates
SEO Tool improvements
(Pro and Enterprise)
The SEO tool was already massively useful but now there's a little bit more organisation to improve usability. Recommendations are now grouped into categories for targeted optimisation, 'technical difficulty' ratings allow for an at-a-glance overview if something will take longer to fix, as well as links out to relevant HubSpot Knowledge Base articles to guide you through the process.
Enhanced revenue attribution reporting
(Enterprise)
So you might have dabbled in an online event last year and you'll know just how important it is to track ROI. HubSpot has now improved the reporting attribution for video views, marketing event registration and event attendance to drive revenue. So if a lead associated with a closed-won deal has interacted with any of these elements, it will now show up in revenue attribution reports.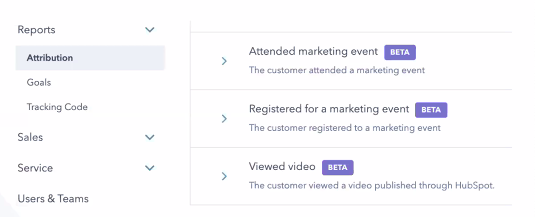 Enhanced email editor
(Free, Starter, Pro & Enterprise)
This one has been in the works for a while and is now fully live – the merged email editor UI that combines drag-and-drop simplicity with the customisation of the original editing tool. This makes it simple, easy and effective to build your own email templates without the need for development. If you're a new customer this will be your default option as standard, current Pro and Enterprise customers will see a Beta switch, allowing you to opt-in to use.
Custom UTM parameters when enabling ad tracking
(Free, Starter, Pro & Enterprise)
This is a quick fix for tidying up your campaign tracking metrics. Users can now edit the utm_source and utm_medium parameters in the ad tracking template – so you can match what displays in Google Analytics if you wish. This will ensure your auto tracking is synced up for full funnel ads reporting and reports across Google Analytics and HubSpot are matched.
Commenting functionality
(Pro and Enterprise)
HubSpot is all about enabling collaboration! And it's now more important than ever. You might have seen this new feature rolling out across a few different tools – the ability to add comments and '@ mention' colleagues in-app. It's recently been added to forms, emails, workflows and now the latest addition is campaigns. We love this feature for providing context to different teams! It's really handy to keep things all in the same platform.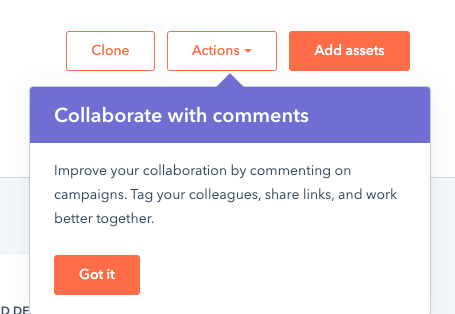 Sales Hub Updates
Pooled e-signature limits
(Pro and Enterprise)
As of late December, e-signature limits are pooled at portal level, but the number of signatures allocated per user will remain the same. So, say for example you have a Professional portal with 5 paid seats – you'll get 10 signatures per seat per month to use that can be allocated to any of their paid users.
New Stuff Across All Hubs
Drag & drop files in Conversations / Conversations is now an object
(Free, Starter, Pro & Enterprise)
The chat widget has become smarter by allowing users to drag-and-drop files directly into conversations, either via the Inbox or chat widget itself. Website visitors can also use this function to copy and paste files like images or GIFs into your chatbot for an enhanced user experience!
On top of this update, Conversations is now officially an object. This means better reporting across conversations, emails, chat and Facebook messenger. Sneaky insight - this means that conversation-based workflows and cross object reporting will be coming soon! 👀
Video module in email
(Free, Starter, Pro & Enterprise)
You can now easily add video into your emails using the drag and drop builder! Whilst we still can't play the full video due to limitations with external providers, the next best thing is using a click-through thumbnail that sends the user to a webpage to view the full video – a huge uptick for increasing CTR! All you need to do now is select a video from your files, enter a custom code or insert a URL.
New Tasks Home for Sales Reps
(Free, Starter, Pro & Enterprise)
Sales Reps rejoice! Your all-new Tasks app is here as your go-to command centre. The new tasks home gives you a quick overview of everything you need to know – upcoming tasks, meetings, prospect activity and performance metrics. Log in here first thing to see what you need to do and check in throughout the day to track progress – your central source of truth to reach success for the day, all in one place!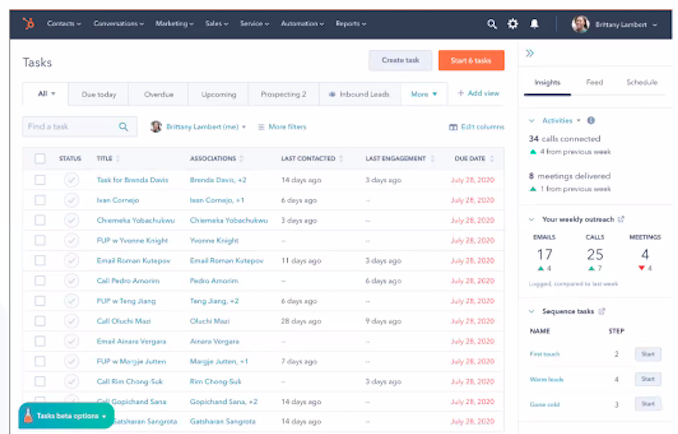 Coming soon…
Custom Reports Builder - Beta
(Pro and Enterprise)
There are three really exciting improvements coming to the Custom Report Builder Beta. Since launching in Q4 last year, we've already seen loads of development to the experience and it's proving an invaluable tool to level up how businesses use HubSpot.
There are three new enhancements in the works to keep an eye out for:
New visualisations; combination charts with an additional Y-axis
Additional chart settings to filter by things like minimum, maximum, stacking values etc.
Sorting and totals functionality (i.e ascending and descending order)
And that's all for January, folks!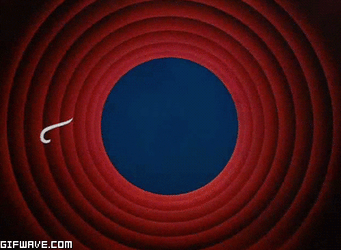 Via GIPHY
Keep an eye on our social channels where we share other relevant HubSpot news, insights and updates to help you make the most of the platform – as well as updates on when we'll be hosting the next Liverpool HubSpot User Group (HUG)!
Do you feel like you're using the HubSpot platform to its full potential? There's so much HubSpot can do that it can be difficult to know where to start. As a Diamond Solutions Partner, we can help!
Our HubSpot experts can carry out a comprehensive audit of your portal to see what's working and if there's anything that can be improved on. It's a free, no-obligation service where you'll receive a complete report with actionable insights and follow ups. Get your free portal audit now!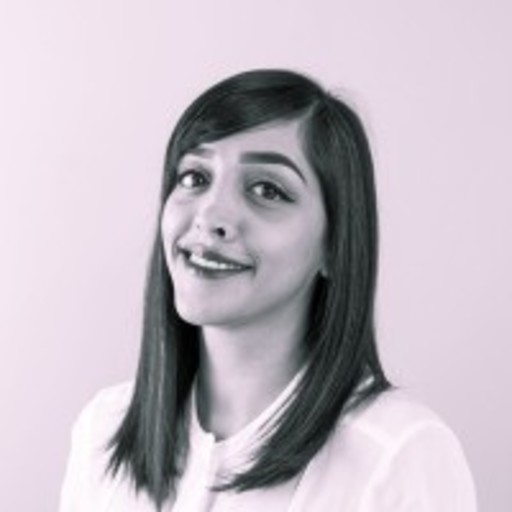 Sammy Siddique