Other than new emojis (😶‍🌫️❤️‍🔥😵‍💫) – the Apple iOS 15 update comes with a few others things you need to be aware of, especially if you're in charge of running marketing campaigns and communicating with customers.
Whilst there's always smaller updates and new features to be aware of, this one's a biggie, with enhanced privacy features incoming that could change how marketers report and analyse email performance forever.
But don't panic! Read on to find out exactly what has changed, how it might impact your business and, most importantly, how we can help!
What is the Apple iOS 15 update?
Announced in June earlier this year at Apple's Worldwide Developers Conference, Apple recently began rolling out their new iOS 15 privacy features.
These include…
Mail Privacy Protection (Free): Apple Mail will now allow users to opt into mail privacy features that mask IP addresses and block third parties from tracking email opens or other IP data.
From Apple: "The new feature helps users prevent senders from knowing when they open an email, and masks their IP address so it can't be linked to other online activity or used to determine their location."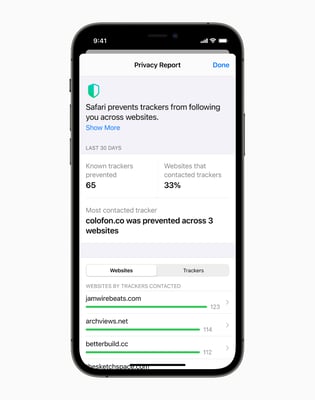 Image courtesy of Apple
iCloud+ (Subscription)(50GB: £0.79): For an additional subscription cost, iCloud can now offer advanced privacy features, such as the Private Relay option that stops sites from tracking Safari users much like a VPN service.
From Apple: "Private Relay ensures all traffic leaving a user's device is encrypted, so no one between the user and the website they are visiting can access and read it, not even Apple or the user's network provider."
Hide My Email (within iCloud+): This feature essentially allows users to provide 'fake' email addresses and 'cloak' their actual address. Emails sent from a brand to the fake address will still reach the same inbox, however brands will not be able to access the users 'real' address.
From Apple: "Hide My Email lets users share unique, random email addresses that forward to their personal inbox anytime they wish to keep their personal email address private."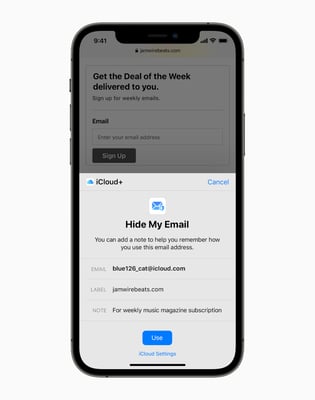 Image courtesy of Apple
Whilst these are big wins for customer privacy, we need to watch carefully how this might impact our email marketing efforts and metrics we track.
How has the Apple iOS 15 update impacted email marketing?
The paid features of the update aren't too concerning as they require an additional purchase. However, the free Mail Privacy Protection service has a much higher opt-in potential, with similar updates launched previously seeing over 90% of users opting in (RakaCreative).
Simply put, this update means that email tracking tools – like HubSpot – will no longer be able to accurately identify if someone (using Apple iOS) has truly opened an email. The Mail Privacy Protection feature will artificially open the email, causing tools to log that an email has been opened, when in fact it may not have been by the actual end user.
So if you're using email open rates as a KPI, this figure could now be artificially inflated and inaccurate. If you're using email open rates to trigger additional automation events, this could also cause a few headaches. If you use software like HubSpot, this then branches out into areas like custom dashboards, lists and branching structure within workflows.
Generally speaking, Apple is the most popular email client by user adoption, tracking at around 47% of market share (Litmus). Which means – in theory – almost 50% of your emails will now be automatically logged as 'Opened'.
Whilst this figure might seem scary, it's important to bear in mind the overall likely adoption of Apple across your target audience and sector. So think back to your buyer personas and utilise industry trends to understand the impacts specific to your business.
Key Impacts to consider:
Open rates may rise significantly with no change in actual engagement
Campaign reports and dashboard results could be inflated
Real-time email tactics that rely on IP-based locations will be less effective
Email open activity may be spread across multiple contact records
Workflows, lists and scores could be triggered/behaving incorrectly
Steps to manage Apple's Open Privacy changes
Reset goals
Open rates aren't going anywhere, however you might want to move the goalposts slightly with this update in mind. If you're currently measuring email open rates and have a target to try and reach, this figure may need to increase in order to accurately reflect the potential inflation rates caused by the update.
Change KPIs
You may or may not have been using open rates as a KPI, but now seems a logical time to reassess your current email marketing strategy and use this update as a precursor for change. There's plenty of other metrics to consider that can tell you a lot about your customers, including:

- Clicks and Click-through-rates: if your users are engaged with your email content, they'll be clicking links and taking further action. Low clicks can tell you that your content isn't peaking any interest.

- Clickmaps can then show you where users are clicking, across different areas of content

- Unsubscribe rates are a really important metric to observe, again telling you how engaging your content is, if you're targeting the right people with your content and if you're potentially sending too many emails.
Audit your overall email marketing strategy
Things always change and generally, the importance of data privacy is more important now than ever. Whilst this update might cause some friction to start with, ultimately, your end goal should always be to create highly impactful emails that drive value for your audience. Consider how you're sending emails and review opportunities to improve content based on your existing data points over the past year or so.
Explore other marketing channels
The world is your oyster! If you're solely relying on email to attract and engage leads, it might be time to widen your efforts and consider different channels.

Social media is an obvious choice, especially for eCommerce, whilst building out a video marketing strategy can drive interactions and provide an invaluable educational resource for prospects and customers. SMS is another avenue ripe for testing! Again, refer back to your buyer personas to think about where your audience spends their time.
Need help understanding the impacts on your business?
The Apple iOS 15 Update will impact every business differently. As we work with a broad variety of sectors and types of business, we're keen to help explore how this might impact your unique marketing strategy and systems – plus, most importantly, outline how to mitigate any impacts.
Talk to us today about a bespoke iOS 15 Audit Report for your business!

Samuel Banks