Every single person who works for your business can be an additional arm to the outreach of your social media strategy, but it's important to harness this resource in the right way – if you take some seemingly obvious routes then it can actually harm your efforts. Here are four tactics you can implement to help amplify your social media strategy.
The first thing you need to do is identify your business as either business-to-business or business-to-consumer – hopefully you already know this (if you don't immediately, stop reading this and sort that out!). We've got two killer strategies that are tried and tested for each.
Business-to-business
Build their profile, reap the benefits
A huge amount of people have at least two personal Twitter accounts, certainly a lot of people here at Prodo do – usually this means one for their personal persona and one for their professional persona. The latter is what we want to focus on here, as it taps into your employees' desires to be seen as 'thought-leaders' via their professional personal Twitter account.
Using programs such as Tweetdeck and Crowdfire, you're able to post on behalf of your employees without having full access to their accounts. Different programs have different levels of access but Crowdfire is the most basic, allowing you only to post to an account and nothing else, keeping direct messages and other features private. Posting your content on their channels increases brand awareness and allows you to present the opportunity of a click-through to a different audience – and building the reputation of your employees at the same time can only be a good thing. Winner, winner Twitter dinner.
Utilise LinkedIn's over-powered feature
Again, LinkedIn – like Twitter – is often used for professional persona building. Access isn't available in the same way for posting on your employee's behalf, but you should still encourage your team to share your posts on LinkedIn. The best way of doing this is giving them a weekly newsletter to copy into their 'Write an article' section in the format of 'A round-up of the best [insert your industry] articles from this week'; include some content that you've written but alongside aggregated content from respected non-competitor sources.
The great thing about this is that the 'write an article' feature is under-utilised at the moment, so LinkedIn is encouraging its use by super-charging it: once the article is published, many of your contacts will receive a notification linking directly to the article, both in LinkedIn but also as a push notification if they have the LinkedIn app installed.
Business-to-consumer
A friend of theirs, is a friend of ours (maybe)
The average person on Facebook has 338 friends (according to a study by Big Think); to them, they are friends, but to you and your business they could be potential customers. If your business and product is right for a mainstream audience (something the average person would at least consider involving themselves with) then you should be encouraging your employees to share your content. Take a look at our Facebook organic reach calculator to remind yourself of the value of achieving shares.
Remember that, if your product is niche, then technically you shouldn't encourage any unnatural behaviour. Why? Well, the answer lies in Facebook's algorithm: if you're encouraging unnatural sharing of a piece of content, the audience that it will be shared with will be less likely to engage with it and this will result in a low engagement rate. A low engagement rate will result in a low page score, and a low page score will reduce in the reduction in reach of all subsequent posts.
A follower of theirs, is a friend of ours (definitely)
Twitter works for business-to-consumer, too, and the great thing is that you haven't got the harsh algorithm to worry about. The vast majority of Twitter impressions aren't affected by an algorithm, and the only algorithms in place are positive ones, meaning that Twitter can only reward and not punish. So if your product is suitable for the general market (or even if it isn't), then encourage your employees to share any and all content on Twitter.
Of course, there are many ways that you can get your employees to help with your social strategy, but these are four of the most effective tactics. Not only do they deliver results, but the ease of participation for employees makes them practical to adopt – which perhaps is the most important thing. And a by-product is a greater level of employee engagement with your marketing efforts, as you create a wider team of brand advocates.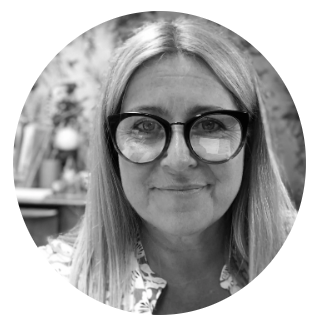 Pippa Adams, CEO