Whilst conversational marketing has been happening for many years, new and improved technology has made it easier to get closer to your customers. With the proliferation of social media platforms, more and more conversations are happening every day, between friends, family, colleagues — so why shouldn't we incorporate this into the buying process?
Building the relationship between you and your customers helps gain trust, increasing your chances of them becoming loyal and making repeat purchases. It also allows you to discover more about who your customers are and what they expect from you.
So, what do we mean by conversational marketing?Conversational marketing means one-to-one, informal chats between you and your prospects. It allows businesses to discover more about their potential customers in a much more natural way, allowing you to get rid of lead capture forms and delayed response times! Conversational marketing allows customers to engage with your brand and start a real-time conversation from their phone or laptop.
Let's speed up the process with...conversations!
Whilst previous methods of marketing were quite long and drawn out, this method works faster because it bypasses the need for lead-capture forms. Lead-capture forms are often the hold up in the buying process, because prospects don't have the time to wait days for a call or response, they want one pretty much instantly.
Well, with conversational marketing tools and technology, chatbots are able to provide just that. Chatbots make your business available 24/7 to prospects and provide instant responses, just like a real conversation, making you more convenient for your customers.
So, what do the conversational marketing experts suggest?
1. Let them approach you
Imagine if you could start up a conversation with someone every time they visit your website? Real-time messaging tools can sit on pages of your website and can be programmed to start up a conversation with anyone who stays on your website for a certain amount of time. This ensures you're approaching people who have shared an interest. We advise only putting these tools on high-intent pages to ensure you are targeting those who are more likely to purchase and are not interrupting their buyer journey.
2. Say goodbye to forms and introduce chatbots
Using real-time messaging tools means you can remove lead-capturing forms, because they capture the same data but in a much more human way to offer a more personal experience. Then, at the end of the journey, instead of prospects having to fill out a form and wait for a response, they can instantly be directed to the right sales rep and continue their journey there.
3. Get personal with your best leads
Once you've filtered through your prospects and located your qualified leads, start adding a personal touch to start building a more trusting relationship. Look at behavioural patterns, for example, how many times leads have visited your website and how much time they've spent on your website. Tools like Google Analytics, Hubspot Traffic Analytics and HotJar are essential for helping you understand how your customers interact with your content offering.
By adopting the conversational marketing approach, you'll be able to create a more human buying experience for your customers, allowing chatbots to speak to them at their convenience, when they're ready. Chatbots are great for providing real-time responses, which not only benefits your customers, but also your business because it shortens the sales cycle and helps you close leads quicker.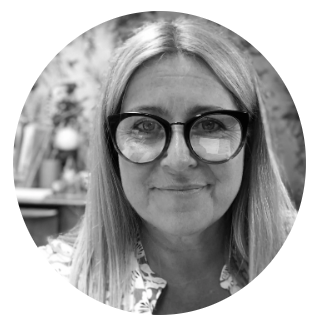 Pippa Adams, CEO