One of the best things about event venues is that each one is different and has its own unique qualities - whether it's the size and economic potential of a sports ground (I'm thinking gigs or boxing events), or the grandeur of a historical building at a wildlife park. With this in mind, however, each venue comes with the distinctive challenge of making the most of a space in creative and innovative ways.
Here are three ways you can optimise your unused event space with digital and inbound marketing:
1. Consider upgrading your website
Your website is your shop window in the 21st century – but that's no longer all it is. It's a tool that can work for you to generate leads, build your reputation and increase trust in your brand.
To achieve that, your web design needs to keep the user at the heart of everything. It must deliver a smooth, intuitive, visually engaging website that provides everything your visitors need and encourages them to engage with you direct.
To successfully encompass inbound, your website should also include content from blog posts to videos to thought leadership articles, the key is to create content that doesn't just say 'use our service, use our service, use our service', but rather attracts the attention of the right people with something interesting, useful or informative - the right message to the right people at the right time.
So consider upgrading your website through web design and an adoption of inbound methodology. One of our clients, Emirates Old Trafford, achieved a 49% increase in average user session time and a 38% increase in pages per user session as a result of the new website we developed for them. Thanks to the insights gained from requirement workshops with cricket fans, conference organisers and internal stakeholders, we designed a website with dedicated areas for both cricket and events audiences and set some intelligent personalisation in place to enhance the user experience - take a look: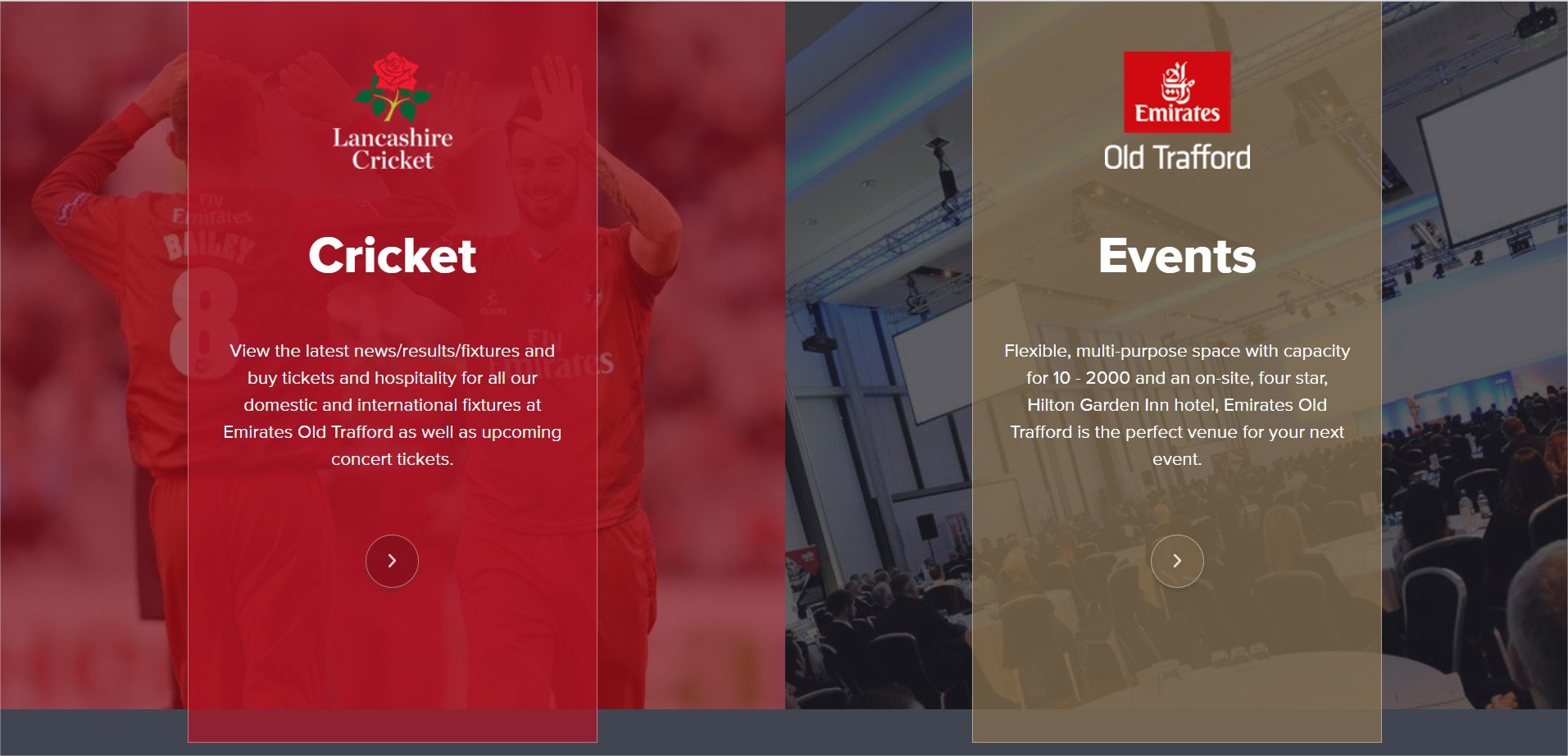 2. Get creative on social media
With input from an agency in regards to inbound-led optimisation, it's time to get those creative juices flowing and think of innovative ways to maximize the venue space.
One thing you should definitely utilise is social media platforms; in terms of current popularity, namely Instagram and Snapchat. With social you can show off that breathtaking entrance for a wedding or the minimalist aesthetic you've created for an art exhibition, through filtered photos and stories with multimodal features such as gifs and typography; these elements will also help to enhance and retain audience engagement. Paid advertising will help to amplify your content, increasing reach and adding to the buzz around your event space.
3. Enhance your customer service with a chatbot
Chatbots offer an all-encompassing 24/7 form of customer service. They have the capacity to provide information and quotes to users, as well as function as a booking system. While the value of chatbots can be underlined by the way in which they minimise the need for additional human customer service resource, they can also be utilised to replace your longwinded, impersonal and indirect forms. Chatbots can offer an instantaneous, direct channel of communication which provides potential clients with information and functionality required to book your event space, effortlessly, and at any time.

Meg Kershaw